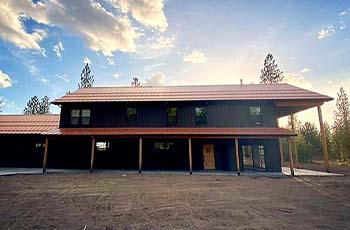 Have you ever heard of the term barndominium? Also known as a barndo? The term "barndominium" shot to fame courtesy of Chip and Joanna Gaines, on the show "Fixer Upper." Their inspired transformation of an existing barn into a stunning residence brought this concept to the forefront. Today, the label "barndominium" encompasses a broad spectrum of metal constructions, ranging from quaint single-story barn houses to sprawling, luxurious homes.
It's a unique architectural marvel that fuses living space with your working area. all barndominiums share a defining feature: they bear the full weight of the roof system around their perimeter on posts. This structural design imparts an interior ambiance reminiscent of a warehouse, providing an expansive canvas for endless design possibilities. Even during the construction phase, barndos offer the flexibility to rearrange walls, transforming layouts and room dimensions with ease.
Within the living area of a barndominium, you'll find the familiar comforts and amenities of a conventional home. These span from the fundamentals of plumbing and electricity to indulgent features like second-story layouts, open floor plans, vaulted ceilings, and even inviting wraparound porches.
The working area of a barndominium is a versatile canvas, ranging from simple storage to expansive workshops. The beauty lies in the flexibility to customize the working space to suit your needs. Whether you want a garage in your living room or a dance studio in your kitchen, everyone wishes they had a little more space at some point and this could be your solution.
Barndominiums are also typically cheaper than traditional homes per square foot as well as being more structurally sound. Despite being cheaper however, they can also be incredibly luxurious. The customer alone gets to determine the upper and lower end of the spectrum when it comes to quality. Basically a barndominium can be either a luxury option, or a budget one.
Want to know what the advantages to a Barndominium are? Read our article here.