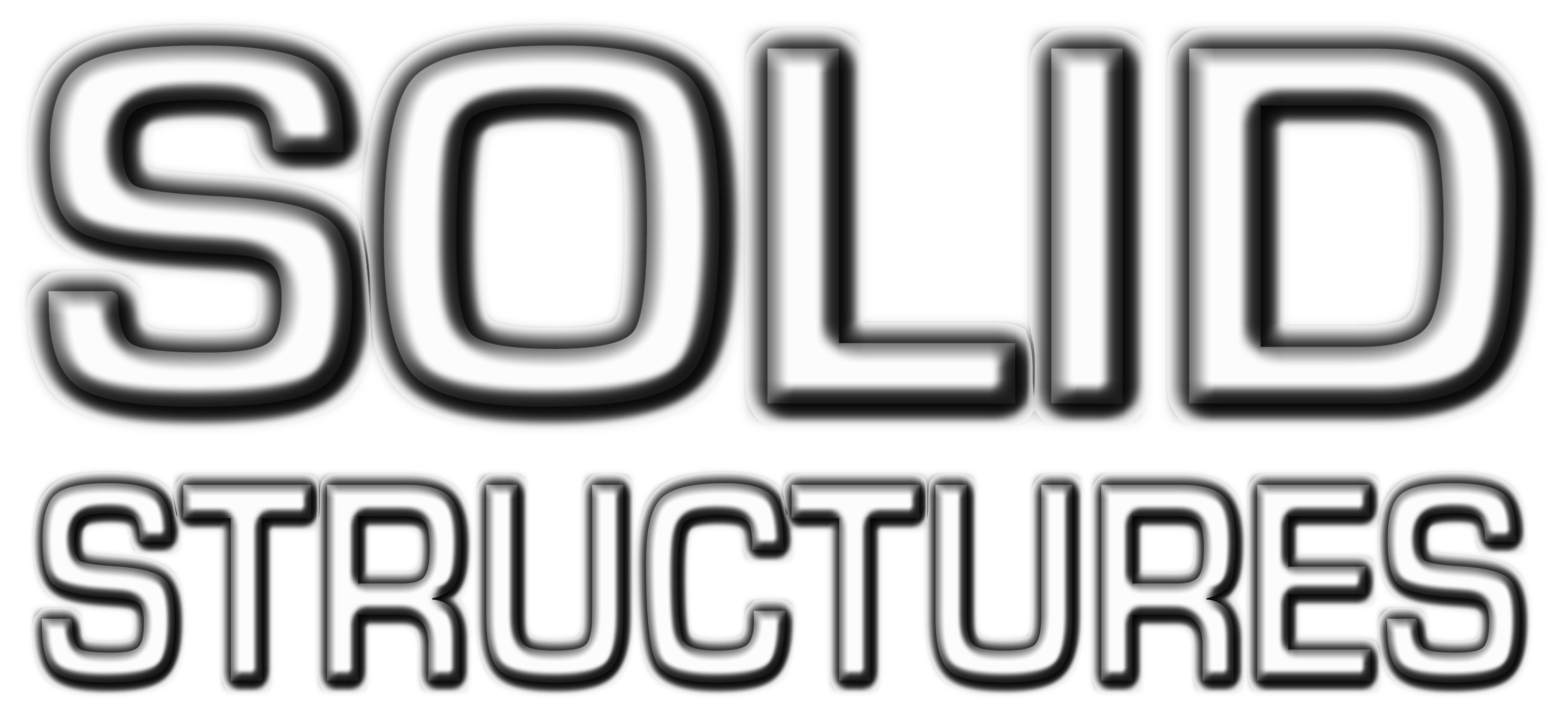 The exterior appearance of your pole building is as important as the quality of your garage. Siding is not only for aesthetic purposes but if installed properly can add structural integrity. There are many siding options available in a variety of products to create a custom look. Typically steel siding is used on most pole buildings, but you can match your existing home or garage/shop with products such as vinyl, concrete, or LP siding. You can even dress up the look of your structure by adding rock, shake, wainscoting, or color bands. Your professional Solid Structures designer can discuss options with you to create your completely custom building.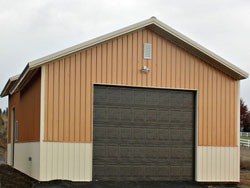 Wainscoting
Dress up the look of your building with the addition of wainscoting. Use coordinating colors to match your home or create a custom look.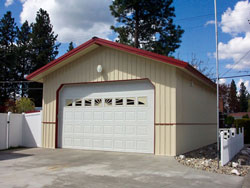 Color Band
A color band is an easy way to add an accent color to your building. Match it to your trim color and you have a sophisticated look.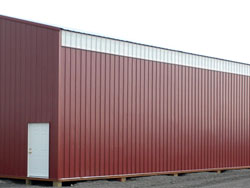 Light Strip
A light strip is an easy way to add natural light to your space. You can add it to one or both sides of your building.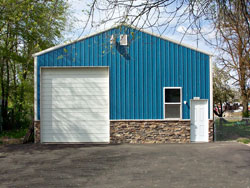 Stone
Natural stone is another way to create an upscale custom look for your building. Use stone to match your home or to add an accent to your building.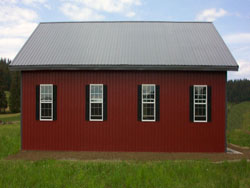 Shutters
Accent your windows with the addition of shutters. There are many color options available for you to choose from.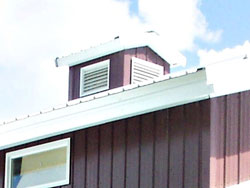 Copulas
A great way to break up a long roofline is with the addition of a copula. They also provide a way for heat to escape your building.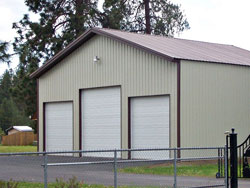 Front Eave
Dress up the front of your building with the addition of a front eave. They also provide some coverage for the front of your building from the elements.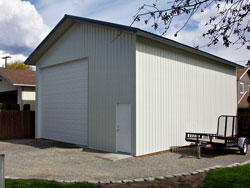 Side Eave
Side eaves are another way to dress up the look of your building. Add them alone or with a front eave.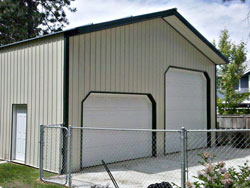 Dog Eared
An easy way to change the look of a square roll-up door is with the addition of dog eared corners.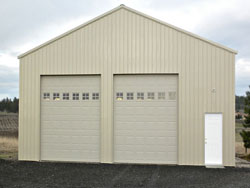 Door Window Panels
Window panels are a great way to dress up any door. They also have the added benefit of allowing more natural light into your building.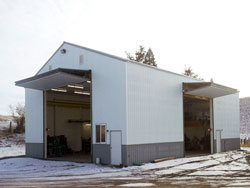 Bi-Fold Doors
Every building is used differently and there is an array of doors available to suit any need including bi-fold doors.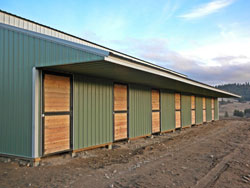 Horse Stall Doors
No riding arena is complete without custom horse stall doors. We can custom order them or build them onsite to suit any need.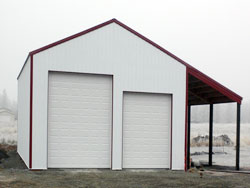 Open Lean-to
If you need additional storage a lean-to is a practical solution. You can include one in your new building or add one to an existing building.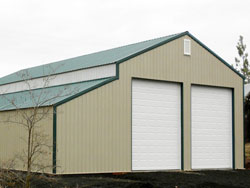 Closed Lean-to
A closed lean-to is an economical way to add additional closed storage to your new or existing building.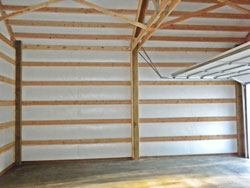 MBI
Metal building insulation is an efficient way to add a vapor barrier and light insulation to your building.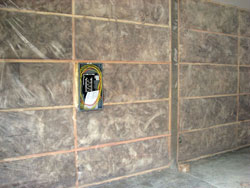 Batted Insulation
Batted insulation offers you the same r-factor that you desire in your home for your building. It's an efficient way to insulate your building.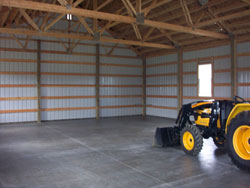 Concrete Floors
Finish out your building with a concrete floor. There are many options available including stamped and stained concrete finishes.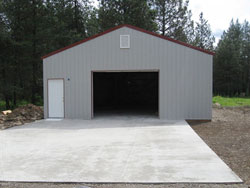 Exterior Concrete
Let our professional concrete finisher complete your project with everything from concrete approaches and driveways to sidewalks and door pads.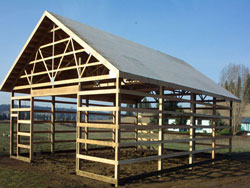 Standard Girt
This is the most common way to frame in your pole building. Use this method for a standard, storage pole building.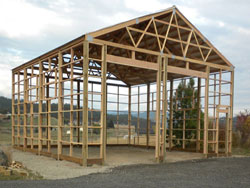 Commercial Girt
Commercial girting is an efficient way to frame your building so it is prepared for insulation, sheetrock, and electrical work.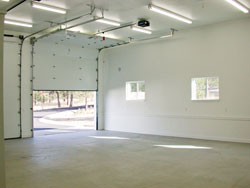 Fully Sheet Rocked
The addition of sheetrock is the solution if you're looking to use your building as a living space or simply want a finished look.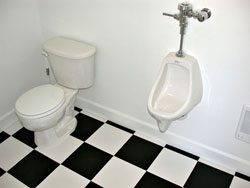 Bathrooms
Another thing to consider when building your shop is the addition of a bathroom. The cost is minimal and the convenience is well worth it.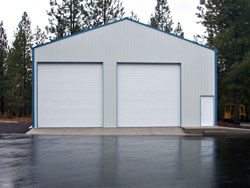 4/12 Pitch
A 4/12 pitch is the most common building pitch used in the industry.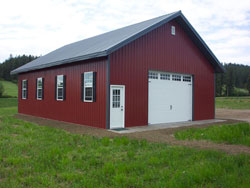 5/12-12/12 Pitch
There are many other building pitches available. You can customize the look of your building or create a loft space by changing the pitch.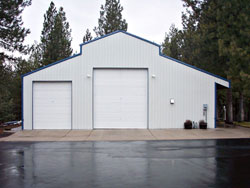 Monitor Style
A monitor style building is a stylistic favorite of many homeowners. It's also a good way to add a loft to your building.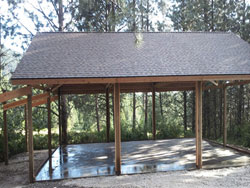 Roof Only
If you don't want a fully enclosed building consider a roof only structure. This is perfect for hay storage, carports, or even picnic shelters.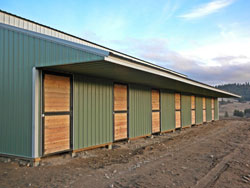 Horse Stalls
Complete your horse arena with the addition of horse stalls. Work with our design team to create a custom stall that works for you.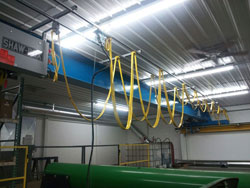 Cranes
If you're looking for an industrial building for business purposes, Solid Structures has your solutions.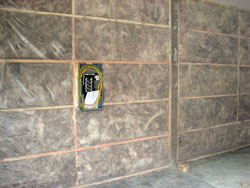 Electrical
Solid Structures can add electrical to your building from a small 60amp service to an industrial 800amp 3 phase service.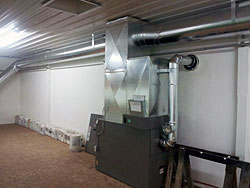 Heating
There are numerous ways to heat your building from stand-alone gas/electric heaters to forced air systems and radiant heat.